Listed D is the defense listed for players without tycoon bonus (in the defense buildings list of the game, in the upgrade dialog, added for the stats in the profile and the defense goal). For player of tycoon and goodfella class, Tycoon D is used instead, though there might be some rounding errors. (How CC rounds in the calculation is not exactly known, according to my calculations).
Effective D is the defense which seems to be really used against robberies. Note that .5 fractions for all defense buildings are added up before any rounding is applied.
For defense against PvP attacks, the value seemed to be cut in half. (This is also the value currently used for the total defense in the PvP result screen.)
Costs refer to the building or upgrade cost to get to that level from the previous level. Same holds for Time. Note, that most of the costs are calculated from base costs and might be off by a few $ due to rounding errors. (As mentioned above, the exact rounding mechanism used in the game is still a mystery).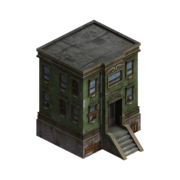 Abandoned Building
Unlocked at level 1
Size: 5 x 6 (in sidewalk stones)
| Level | 1 | 2 | 3 | 4 | 5 | 6 | 7 | 8 | 9 | 10 |
| --- | --- | --- | --- | --- | --- | --- | --- | --- | --- | --- |
| Listed D | 2 | 6 | 12 | 20 | 30 | 44 | 62 | 84 | 111 | 150 |
| Tycoon D | 3 | 7 | 14 | 22 | 33 | 49 | 69 | 93 | 122 | 165 |
| Costs | $500 | $835 | $1,394 | $2,328 | $3,888 | $6,494 | $10,845 | $18,112 | $30,248 | $50,514 |
| Time | 00:00:00 | 00:01:15 | 00:05:38 | 00:22:30 | 01:18:45 | 03:56:15 | 09:50:38 | 19:41:15 | 29:31:52 | 36:54:51 |
| Effective D | 2 | 3 | 4 | 5 | 6 | 7 | 8 | 9 | 10 | 11 |
---
Bodyguard Agency
Unlocked at level 1
Size: 4 x 5
| Level | 1 | 2 | 3 | 4 | 5 | 6 | 7 | 8 | 9 | 10 |
| --- | --- | --- | --- | --- | --- | --- | --- | --- | --- | --- |
| Listed D | 10 | 30 | 60 | 100 | 150 | 220 | 310 | 420 | 550 | 750 |
| Tycoon D | 11 | 33 | 66 | 111 | 165 | 243 | 341 | 463 | 605 | 826 |
| Costs | 25g | $10,020 | $16,733 | $27,944 | $46,667 | $77,935 | $130,151 | $217,353 | $362,980 | $606,177 |
| Time | 00:05:00 | 00:01:15 | 00:05:38 | 00:22:30 | 01:18:45 | 03:56:15 | 9:50:38 | 19:41:15 | 29:31:52 | 36:54:51 |
| Effective D | 10 | 15 | 20 | 25 | 30 | 35 | 40 | 45 | 50 | 55 |
---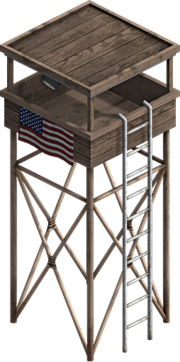 Guard Tower
Unlocked at level 5
Size: 3 x 3
| Level | 1 | 2 | 3 | 4 | 5 | 6 | 7 | 8 | 9 | 10 |
| --- | --- | --- | --- | --- | --- | --- | --- | --- | --- | --- |
| Listed D | 3 | 9 | 18 | 30 | 45 | 66 | 93 | 126 | 165 | 225 |
| Tycoon D | 4 | 10 | 20 | 33 | 50 | 73 | 103 | 139 | 182 | 248 |
| Costs | $1,200 | $2,004 | $3,346 | $5,588 | $9,333 | $15,587 | $26,030 | $43,470 | $72,596 | $121,235 |
| Time | 00:01:00 | 00:04:00 | 00:16:00 | 00:56:00 | 02:48:00 | 07:00:00 | 15:45:00 | 31:30:00 | 47:15:00 | 59:03:45 |
| Effective D | 3 | 4.5 | 6 | 7.5 | 9 | 10.5 | 12 | 13.5 | 15 | 16.5 |
---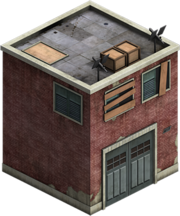 Safehouse
Unlocked at level 14
Size: 5 x 5
| Level | 1 | 2 | 3 | 4 | 5 | 6 | 7 | 8 | 9 | 10 |
| --- | --- | --- | --- | --- | --- | --- | --- | --- | --- | --- |
| Listed D | 9 | 18 | 31 | 49 | 72 | 99 | 130 | 166 | 207 | 270 |
| Tycoon D | 10 | 20 | 35 | 54 | 80 | 109 | 143 | 183 | 228 | 297 |
| Costs | $7,500 | $12,225 | $20,900 | $34,930 | $58,334 | $97,418 | $162,689 | $271,691 | $453,725 | $757,721 |
| Time | 00:40:00 | 0:30:00 | 01:30:00 | 03:45:00 | 8:26:15 | 16:52:30 | 30:22:30 | 45:33:45 | 63:47:15 | 79:44:04 |
| Effective D | 9 | 13.5 | 18 | 22.5 | 27 | 31.5 | 36 | 40.5 | 45 | 49.5 |
---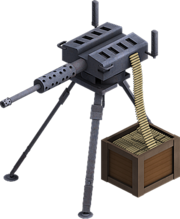 Machine Gun Turret
Unlocked at level 19
Size: 2 x 2
| Level | 1 | 2 | 3 | 4 | 5 | 6 | 7 | 8 | 9 | 10 |
| --- | --- | --- | --- | --- | --- | --- | --- | --- | --- | --- |
| Listed D | 5 | 10 | 17 | 27 | 40 | 55 | 73 | 92 | 115 | 150 |
| Tycoon D | 6 | 11 | 19 | 30 | 44 | 61 | 80 | 102 | 127 | 165 |
| Costs | $7,500 | $12,525 | $20,916 | $34,930 | $58,334 | $97,418 | $162,689 | $271,691 | $453,725 | $757,721 |
| Time | 01:00:00 | 00:41:15 | 01:53:26 | 04:43:36 | 11:48:59 | 23:37:58 | 41:21:27 | 62:02:10 | 77:32:43 | 85:17:59 |
| Effective D | 5 | 7.5 | 10 | 12.5 | 15 | 17.5 | 20 | 22.5 | 25 | 27.5 |
---
Armory
Unlocked at level 24
Size: 6 x 6
| Level | 1 | 2 | 3 | 4 | 5 | 6 | 7 | 8 | 9 | 10 |
| --- | --- | --- | --- | --- | --- | --- | --- | --- | --- | --- |
| Listed D | 26 | 52 | 91 | 144 | 208 | 286 | 377 | 481 | 598 | 780 |
| Tycoon D | 29 | 58 | 101 | 158 | 229 | 315 | 415 | 531 | 658 | 859 |
| Costs | 75g | $16,700 | $27,889 | $46,574 | $77,780 | $129,891 | $216,920 | $362,256 | $604,967 | $1,010,295 |
| Time | 00:05:00 | 00:41:15 | 01:53:26 | 04:43:36 | 11:48:59 | 23:37:58 | 41:21:27 | 62:02:10 | 77:32:43 | 85:17:59 |
| Effective D | 26 | 39 | 52 | 65 | 68 | 81 | 94 | 107 | 130 | 143 |
---
Muay Thai Center
Unlocked at level 30
Size: 4 x 4
| Level | 1 | 2 | 3 | 4 | 5 | 6 | 7 | 8 | 9 | 10 |
| --- | --- | --- | --- | --- | --- | --- | --- | --- | --- | --- |
| Listed D | 18 | 36 | 63 | 99 | 144 | 198 | 261 | 333 | 414 | 540 |
| Tycoon D | 20 | 40 | 70 | 109 | 159 | 218 | 288 | 367 | 456 | 594 |
| Costs | $16,000 | $26,720 | $44,622 | $74,519 | $124,447 | $207,827 | $347,071 | $579,609 | $967,947 | $1,616,472 |
| Time | 02:00:00 | 01:15:00 | 3:07:30 | 7:01:53 | 14:03:45 | 28:07:30 | 49:13:08 | 73:49:41 | 92:17:07 | 101:30:50 |
| Effective D | 18 | 27 | 36 | 45 | 54 | 63 | 72 | 81 | 90 | 99 |
---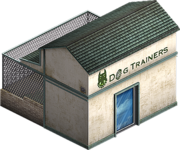 Guard Dog Training Center
Unlocked at level 36
Size: 6 x 6
| Level | 1 | 2 | 3 | 4 | 5 | 6 | 7 | 8 | 9 | 10 |
| --- | --- | --- | --- | --- | --- | --- | --- | --- | --- | --- |
| Listed D | 20 | 40 | 70 | 110 | 169 | 220 | 290 | 370 | 460 | 600 |
| Tycoon D | 22 | 44 | 77 | 122 | 176 | 242 | 319 | 407 | 506 | 660 |
| Costs | $28,000 | $46,760 | $78,089 | $130,408 | $217,782 | $363,698 | $607,375 | $1,014,316 | $1,693,908 | $2,828,826 |
| Time | 4:00:00 | 2:15:00 | 5:03:45 | 10:07:30 | 17:43:08 | 31:00:28 | 54:15:49 | 81:23:44 | 101:44:38 | 111:55:08 |
| Effective D | 20 | 30 | 40 | 50 | 60 | 70 | 80 | 90 | 100 | 110 |
---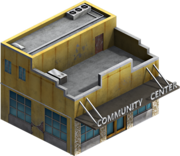 Neighborhood Watch Center

Unlocked at level 38

Size: 8 x 7
| Level | 1 | 2 | 3 | 4 | 5 | 6 | 7 | 8 | 9 | 10 |
| --- | --- | --- | --- | --- | --- | --- | --- | --- | --- | --- |
| Listed D | 24 | 48 | 84 | 132 | 192 | 264 | 348 | 444 | 552 | 720 |
| Tycoon D | 27 | 53 | 93 | 146 | 212 | 291 | 383 | 489 | 608 | 792 |
| Costs | $38,000 | $63,460 | $105,978 | $176,983 | $295,562 | $493,589 | $824,294 | $1,376,571 | $2,298,875 | $3,839,121 |
| Time | 6:00:00 | 3:00:00 | 6:00:00 | 11:00:00 | 18:00:00 | 32:00:00 | 56:00:00 | 84:00:00 | 110:00:00 | 120:00:00 |
| Effective D | 24 | 36 | 48 | 60 | 72 | 84 | 96 | 108 | 120 | 132 |
---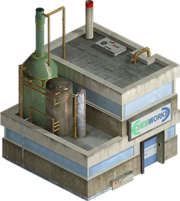 Chemical Plant
Unlocked at level 42
Size: 6 x 6
| Level | 1 | 2 | 3 | 4 | 5 | 6 | 7 | 8 | 9 | 10 |
| --- | --- | --- | --- | --- | --- | --- | --- | --- | --- | --- |
| Listed D | 33 | 66 | 116 | 182 | 264 | 363 | 479 | 611 | 759 | 990 |
| Tycoon D | 37 | 73 | 128 | 201 | 291 | 400 | 527 | 673 | 835 | 1,089 |
| Costs | 140g | $66,800 | $111,556 | $186,298 | $311,118 | $519,567 | $867,678 | $1,449,023 | $2,419,868 | $4,041,180 |
| Time | 0:05:00 | 02:15:00 | 5:03:45 | 10:07:30 | 17:43:08 | 31:00:28 | 53:15:49 | 81:23:44 | 101:44:38 | 111:55:08 |
| Effective D | 33 | 49.5 | 66 | 82.5 | 99 | 115.5 | 132 | 148.5 | 165 | 181.5 |
---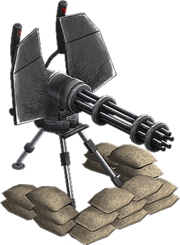 Gatling Turret
Unlocked at level 47
Size: 2 x 2
| Level | 1 | 2 | 3 | 4 | 5 | 6 | 7 | 8 | 9 | 10 |
| --- | --- | --- | --- | --- | --- | --- | --- | --- | --- | --- |
| Listed D | 25 | 50 | 87 | 137 | 200 | 275 | 363 | 463 | 575 | 750 |
| Tycoon D | 28 | 56 | 96 | 151 | 221 | 303 | 400 | 510 | 633 | 825 |
| Costs | $54,000 | $90,180 | $150,600 | $251,503 | $420,010 | $701,417 | $1,71,366 | $1,959,181 | $3,266,822 | $5,455,593 |
| Time | 8:00:00 | 4:00:00 | 7:00:00 | 12:15:00 | 21:26:15 | 37:30:56 | 65:39:08 | 98:28:43 | 123:05:53 | 135:29:29 |
| Effective D | 25 | 37.5 | 50 | 62.5 | 75 | 87.5 | 100 | 112.5 | 125 | 137.5 |
---
Reinforced Tower
Unlocked at level 54 (was unavailable from 2011-11-17 to 2012-02-01)
Size: 2 x 2
| Level | 1 | 2 | 3 | 4 | 5 | 6 | 7 | 8 | 9 | 10 |
| --- | --- | --- | --- | --- | --- | --- | --- | --- | --- | --- |
| Listed D | 45 | 90 | 158 | 248 | 360 | 495 | 360 | 495 | 1,035 | 1,350 |
| Tycoon D | 50 | 100 | 174 | 273 | 397 | 545 | 718 | 916 | 1,139 | 1,485 |
| Costs | 200g | $133,600 | $223,112 | $372,597 | $622,237 | $1,039,135 | $1,735,356 | $2,898,046 | $4,839,736 | $8,082,360 |
| Time | 00:05:00 | 04:00:00 | 07:00:00 | 12:15:00 | 21:26:15 | 37:30:56 | 65:39:08 | 98:28:47 | 123:05:53 | 135:24:29 |
| Effective D | 45 | 67.5 | 90 | 112.5 | 135 | 157.5 | 180 | 202.5 | 225 | 237.5 |
---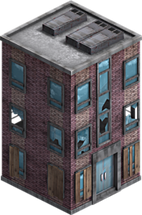 Snipers Den

Unlocked at level 61

Size: 5 x 5
| Level | 1 | 2 | 3 | 4 | 5 | 6 | 7 | 8 | 9 | 10 |
| --- | --- | --- | --- | --- | --- | --- | --- | --- | --- | --- |
| Listed D | 32 | 64 | 112 | 176 | 256 | 352 | 464 | 592 | 736 | 960 |
| Tycoon D | 36 | 71 | 124 | 194 | 282 | 388 | 511 | 652 | 810 | 1,056 |
| Costs | $90,000 | $150,300 | $251,001 | $419,172 | $700,017 | $1,169,028 | 1,952,277 | $3,260,302 | $5,444,704 | $9,092,656 |
| Time | 16:00:00 | 7:00:00 | 12:15:00 | 21:26:15 | 32:09:22 | 48:14:04 | 72:21:06 | 108:31:37 | 135:39:32 | 149:13:30 |
| Effective D | 32 | 48 | 62 | 78 | 94 | 110 | 126 | 142 | 158 | 174 |
---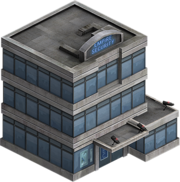 Security Center

Unlocked at level 69

Size: 8 x 8
| Level | 1 | 2 | 3 | 4 | 5 | 6 | 7 | 8 | 9 | 10 |
| --- | --- | --- | --- | --- | --- | --- | --- | --- | --- | --- |
| Listed D | 35 | 70 | 122 | 193 | 280 | 385 | 508 | 648 | 805 | 1,050 |
| Tycoon D | 39 | 77 | 136 | 213 | 308 | 424 | 559 | 713 | 886 | 1,155 |
| Costs | $125,000 | $208,750 | $348,612 | $582,183 | $972,245 | $1,623,650 | $2,711,495 | $4,528,197 | $7,562,089 | $12,628,689 |
| Time | 24:00:00 | 9:36:00 | 15:21:36 | 24:34:34 | 36:51:50 | 55:17:46 | 82:56:38 | 116:07:19 | 139:20:46 | 153:16:52 |
| Effective D | 35 | 52.5 | 70 | 87.5 | 105 | 122.5 | 140 | 157.5 | 175 | 192.5 |
---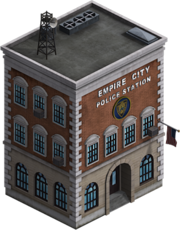 Municipal Police Station

Unlocked at level 78

Size: 5 x 4
| Level | 1 | 2 | 3 | 4 | 5 | 6 | 7 | 8 | 9 | 10 |
| --- | --- | --- | --- | --- | --- | --- | --- | --- | --- | --- |
| Listed D | 57 | 114 | 200 | 314 | 456 | 627 | 827 | 1,055 | 1,311 | 1,710 |
| Tycoon D | 63 | 126 | 220 | 345 | 502 | 690 | 910 | 1,161 | 1,443 | 1,881 |
| Costs | 275g | $267,200 | $446,224 | $745,194 | $1,244,474 | $2,078,271 | $3,470,713 | $5,796,092 | $9,679,473 | $16,164,721 |
| Time | 0:00:05 | 09:36:00 | 15:21:36 | 24:34:34 | 36:51:50 | 55:17:46 | 82:56:38 | 116:07:19 | 139:20:46 | 153:16:52 |
| Effective D | 57 | 85.5 | 104 | 132.5 | 161 | 189.5 | 218 | 246.5 | 275 | 303.5 |
---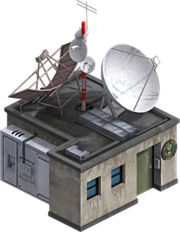 Surveillance Center

Unlocked at level 92

Size: 6 x 6
| Level | 1 | 2 | 3 | 4 | 5 | 6 | 7 | 8 | 9 | 10 |
| --- | --- | --- | --- | --- | --- | --- | --- | --- | --- | --- |
| Listed D | 40 | 80 | 140 | 220 | 320 | 440 | 580 | 740 | 920 | 1,200 |
| Tycoon D | 44 | 88 | 154 | 242 | 352 | 484 | 638 | 814 | 1,012 | 1,320 |
| Costs | $200,000 | $334,000 | $557,780 | $931,492 | $1,555,592 | $2,597,839 | $4,338,392 | $7,245,115 | $12,099,342 | $20,205,901 |
| Time | 32:00:00 | 12:00:00 | 18:00:00 | 27:00:00 | 40:30:00 | 60:45:00 | 85:03:00 | 119:04:12 | 142:53:02 | 157:10:19 |
| Effective D | 40 | 60 | 80 | 100 | 120 | 140 | 160 | 180 | 200 | 220 |
---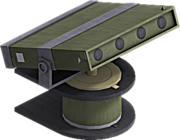 Missile Turret

Unlocked at level 115

Size: 2 x 2
| Level | 1 | 2 | 3 | 4 | 5 | 6 | 7 | 8 | 9 | 10 |
| --- | --- | --- | --- | --- | --- | --- | --- | --- | --- | --- |
| Listed D | 42 | 84 | 147 | 231 | 336 | 462 | 609 | 777 | 966 | 1,260 |
| Tycoon D | 47 | 93 | 162 | 255 | 370 | 509 | 670 | 855 | 1,063 | 1,386 |
| Costs | $500,000 | $835,000 | $1,394,450 | $2,328,731 | $3,888,981 | $6,494,599 | $10,845,980 | $18,112,787 | $30,248,355 | $50,514,754 |
| Time | 48:00:00 | 18:00:00 | 27:00:00 | 40:30:00 | 56:42:00 | 79:22:48 | 103:11:38 | 123:49:59 | 142:24:29 | 156:38:53 |
| Effective D | 42 | 63 | 84 | 105 | 126 | 147 | 168 | 189 | 210 | 231 |
---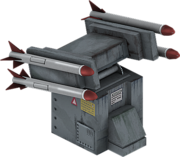 Guided Missile Turret

Unlocked at level 145

Size: 2 x 2
| Level | 1 | 2 | 3 | 4 | 5 | 6 | 7 | 8 | 9 | 10 |
| --- | --- | --- | --- | --- | --- | --- | --- | --- | --- | --- |
| Listed D | 68 | 136 | 238 | 374 | 544 | 748 | 986 | 1,258 | 1,564 | 2,040 |
| Tycoon D | 75 | 150 | 262 | 412 | 599 | 823 | 1,085 | 1,384 | 1,721 | 2,244 |
| Costs | 360g | $1,002,000 | $1,673,340 | $2,794,477 | $4,666,777 | $7,793,519 | $13,015,176 | $21,735,345 | $36,298,027 | $60,617,705 |
| Time | 00:00:05 | 18:00:00 | 27:00:00 | 40:30:00 | 56:42:00 | 79:22:48 | 103:11:38 | 123:49:59 | 142:24:29 | 156:38:53 |
| Effective D | 68 | 102 | 136 | 170 | 204 | 238 | 272 | 306 | 340 | 384 |
---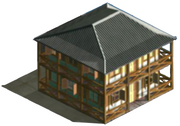 Beachfront Retreat

Relax on the Beach Event (February 2014)

Size: 6 x 6
Level
1
2
3
4
5
6
7
8
9
10
Listed D
10,000
20,000
35,000
55,000
80,000
110,000
145,000
185,000
230,000
300,000
Tycoon D
11,000
22,000
38,500
60,500
88,000
121,000
159,500
203,500
253,000
330,000
Costs
$100,000
$167,000,000
$278,890,000
$465,746,299
$777,796,318
$1,298,919,851
$2,169,196,151
$3,622,557,573
$6,049,671,145
$10,102,950,812
Time
24:00:00
30:00:00
36:00:00
42:00:00
48:00:00
54:00:00
60:00:00
66:00:00
72:00:00
78:00:00
Event Bonus
BMW Beach Roadster
(23,062A/15,374D) +1% Explosive Attack
BMW Beach Roadster
(23,062A/15,374D) +1% Explosive Attack
BMW Beach Roadster
(23,062A/15,374D) +1% Explosive Attack
BMW Beach Roadster
(23,062A/15,374D) +1% Explosive Attack
BMW Beach Roadster
(23,062A/15,374D) +1% Explosive Attack
BMW Beach Roadster
(23,062A/15,374D) +1% Explosive Attack
BMW Beach Roadster
(23,062A/15,374D) +1% Explosive Attack
BMW Beach Roadster
(23,062A/15,374D) +1% Explosive Attack
BMW Beach Roadster
(23,062A/15,374D) +1% Explosive Attack
BMW Beach Roadster
(23,062A/15,374D) +1% Explosive Attack
---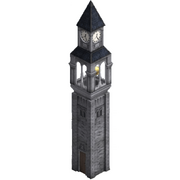 Empire Watch

Unlocked at level 5

Size: 3 x 3
| Level | 1 | 2 | 3 | 4 | 5 | 6 | 7 | 8 | 9 | 10 |
| --- | --- | --- | --- | --- | --- | --- | --- | --- | --- | --- |
| Listed D | 10,000 | 30,000 | 60,000 | 100,000 | 150,000 | 220,000 | 310,000 | 420,000 | 550,000 | 750,000 |
| Tycoon D | 10,001 | 30,001 | 60,501 | 100,001 | 150,001 | 220,001 | 310,501 | 420,501 | 550,001 | 750,001 |
| Costs | $150,000 | $250,500 | $418,335 | $698,619 | $1,166,694 | $1,948,380 | $3,253,794 | $5,433,836 | $9,074,507 | $15,154,426 |
| Time | 24:00:00 | 30:00:00 | 36:00:00 | 42:00:00 | 48:00:00 | 72:00:00 | 96:00:00 | 120:00:00 | 140:00:00 | 165:00:00 |